Hello luv, I'm Courtney!
It's so wonderful to meet you! I would love to help you share your story through photography and inspire you with my paintings. Read on to learn more about who I am and why I am an artist.
Just be a nice girl…
As a child I had always been wildly creative and energetic. I would spend hours in my playroom inventing complex worlds, writing zany stories, and illustrating them with vibrant colors. But the pressure to be a perfect student and a "good girl," got the worst of me in my adolescence.
I stopped drawing, stopped creating worlds, and I let that wild part of me die in order to meet the expectations of my teachers, my family, my community. The result wasn't pretty: when I graduated high school and began college, I was in the throes of an eating disorder and so, so sad.
Then when I was 18, I stumbled across photography.
The first time I picked up a camera, I felt connected to both myself and the world around me. I felt my spiritual hunger, I felt creative desire, I felt inspired. I felt joy. I photographed everything – the tall, skinny North Carolina pines looming over my dorm room, my happy, laughing suitemates, the shadows at nightfall. And I even turned the camera on myself in my first self-portraits, acknowledging my physical existence in the world, and celebrating it. It wasn't an instant cure by any means – and it would take a decade to truly understand and heal the bulimic, depressed girl in me. But my discovery of photography was an integral step towards healing and reclaiming the wild, creative child within me. And it has continued to sustain and feed me for the last 12 years.
My eating disorder and depression stemmed from a deep distrust of my desires, an inability to trust and feed myself, and to honor all that is beautiful within me.
Photography became my medicine: it strengthened my connection to my hunger, my connection to my inner voice, and allowed me to speak my voice and be heard. This simple practice, day after day, for twelve years, brought me renewal and transformation.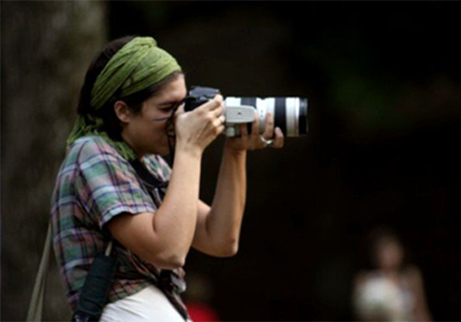 I found my way to photojournalism.
My undergrad years at the photojournalism program at UNC-Chapel Hill were fruitful in terms of learning how to craft and execute a story visually, how to take pictures, how to compose my photos, and how to find yummy light. I became proficient in the technical + artistic parts of being a photographer… but I didn't learn a thing about how to run a business, do my taxes, or license my photos.
And I didn't learn much about creative/spiritual sustenance: how to embrace the creative life-death-life cycle or live a balanced life as a self-employed artist. I didn't learn how to feed my soul.
I originally dreamed of being a newspaper photographer, but I guess I was born into the wrong era. The year I interned at the Naples Daily News, newspapers across the country were laying off their photographers left and right. It was a dark and dismal time to be a photojournalist, and the jaded, time-weary photojournalists at the paper urged me not to apply for photo jobs at newspapers. "DON'T DO IT! GET OUT AND SAVE YOURSELF!" I heard this every day, which was weird for my wide-eyed 21-year-old idealistic self who went to drum circles and felt like the world should have been at my fingertips.
Carving out my own space.
The thought of leaving the safety of my photojournalism/college bubble scared the shit outta me, and I went through a massive freak-out upon graduating. "I should just join the Peace Corps! I should live in a commune and stop cutting my hair and subsist off herbs and hippie love! Or maybe I should do what all the scared undergrads do and be a perpetual student! I'll get a PHD… in what?"
After tossing all these ideas around, I decided to give running my own business a shot. Since I had no idea how to do that, I sought out a community of photographers who became my cheerleaders and safety net. One particular seasoned photojournalist took me under his wing as his mentee and taught me everything he knew about running a business, shooting weddings, and branding.
If it hadn't been for him, I probably would have given up and moved to a commune on a farm in Asheville. (Since I don't know the difference between swiss chard and kale, I don't think that would have gone too well!) And I would have missed out on the best part of my twenties: discovering and harnessing my own power, my own creative potential.